Affordable Auckland Laptop LCD Screen Repairs
Have you found yourself in an unfortunate situation where the screen on your laptop has either cracked or been damaged in some way? Here at Computer Repair Specialists we are to provide same day LCD screen repairs for a huge range of models.

Perhaps one of the kids has dropped the laptop or someone at work has accidentally knocked it off a desk. No matter the cause of the breakage we are the team that can replace the screen and get you back up and running in no time. We also pride ourselves on being one of the cheapest laptop screen repair providers in Auckland with repairs starting from as little as $119.

By having one of the team here replace or repair your Laptops LCD Screen you can relax knowing that the repair will be done by an experienced and trained professional and all parts and components will be of a high quality so the repairs will a long time.

See below for a list of laptops we are not limited too but regularly perform our Laptop LCD Screen replacement services on;

HP
Dell
Acer
Asus
Apple
Lenovo
Toshiba
Compaq
Chromebooks
As we have worked hard to maintain great relationships within the IT industry this has enabled us to lock in extremely cheap and competitive pricing. Due to the wide range of different LCD Laptop Screens and other parts we suggest you head over to our contact us page and give us a call for a more accurate quote.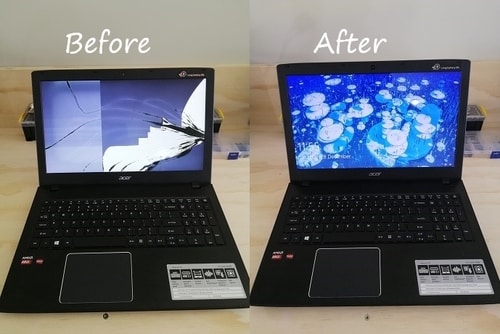 What if my Laptop is Touch Screen?


We are able to support majority of makes and models when it comes to our Laptop Screen Repairs. If your device is touch screen or has any other special functions just give us a call and one of the team would be more then happy to support you.
We stock a wide range of replacement LCD screens and anything we don't have in stock we can order in within a 1-2 day time frame as our suppliers are all located locally.
Due to having fantastic suppliers all throughout New Zealand we are able to easily and affordably source both touch and non-touch laptop screen parts. If you are unsure about the type of screen your laptop requires get in touch with one of the team today.
Will I lose any of my Precious Data?
When we perform our laptop screen repair services we are frequently asked by our customers if there is any chance of the data from the laptop being lost. The answer is no, the repairs itself will not increase any chance of losing the data.
For 99% of jobs where we repair a broken laptop screen we find that the rest of the device is still completely undamaged and once the new screen is fitted the laptop works again without any other issues.
However if the laptop was dropped and there was enough damage sustained to the internal components of the laptop then that is another story. Generally speaking the actual laptop screen repair job will never compromise any data on your laptop. For more information head over to our
Contact Us
page and get in touch with the team today.