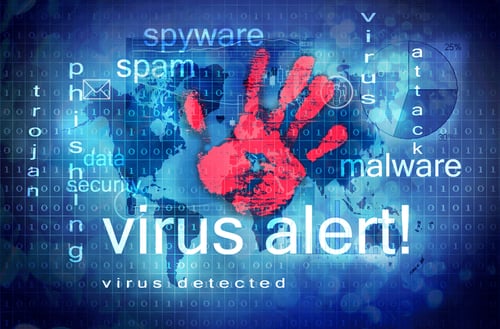 Auckland Virus & Malware Removal Solutions
We frequently have customers bring their Computers & Laptops in to us and ask us why is it running so slow? Or why can't I run these programs anymore that used to work fine? The most common answer is generally that you have managed to pick up a Computer Virus or installed some Malware

As technology advances so are the lengths people will go to manipulate users into thinking something is absolutely safe and harmless for their Computer when in fact it is malicious. At first glance it may look like an awesome new game to try out or a fantastic new photo editing app or even a tool that promises to speed up your computer in just 3 clicks.

There is a lot of advertising for "free" Virus Scanners and other programs that promise will clean your Computer right up for you, however we find a lot of the time these are the very applications that have caused the initial problem.

Because of this we recommend our customers to Contact Us before attempting to install any software that may promise to remedy the situation themselves.
By taking the risk of trying different "free" Anti-Virus software online you are increasing the likelihood of doing more potentially irreversible damage to your precious data such as photos, videos and documents.
Here are some of the examples of things that happen which are could be Virus related;
• Very Slow Load & Shutdown times
• Unable to Access certain Files
• Strange New Error Messages
• Computer Crashing or Unplanned Restarts
• Blue Screen Of Death
• Pop Up Ads while Browsing Internet
• Websites Redirecting To Spam
When our customers let us know they suspect they have a virus we try to book in a time straight away for one of the team to come out and asses the situation or have them bring the device into our Henderson based Workshop.
How Can I Stop These Viruses For Good?
If you find that the above applies to you and you think you have potentially become victim to a virus we recommend you to switch off your Computer and Contact Us as soon as possible.
Our team of experts are trained to find and identify any malicious software that could potentially be hidden from the average PC user.. Once we have managed to remove the virus and verify that all that precious Data is still okay we will then work with you to get one of our recommended Anti-Virus solutions installed.
We know that not everyone has a budget that allows for these things so whilst we do recommend a particular paid version of an Anti-Virus, if that doesn't suit your needs we are happy to come on-site to support you with one of our Free (but not as good) recommended versions of an Anti-Virus software.
The benefit of using one of our recommended paid anti-virus options is not only does it protect your from potential virus problems but it also creates a secure browser so you can relax knowing that paying for things online and checking your internet banking is 100% secure and safe from anyone who shouldn't have access.
There are also additional features such as e-mail protection to make sure nothing malicious is coming in through your email and much more. We are more than happy to chat with you some more to discuss your needs and also chat about pricing.
If you are still not 100% sure if its a Virus or other type of Malware (Malicious Software) you have been infected with, give us a call and we will get you to list the symptoms you are experiencing to us and be able to give you our best recommended advice.